Setting up a new living room can't be easy for anyone. There are so many different types of living room. Some people prefer their living room to have coffee tables, rugs, and so many other things. The main function of a living room is somewhere you can relax, whether it be alone or with guests. It can also be used as a common space for a gathering with members of the house, or even a workspace. If you want a simple and comfortable living room, here are a few essential items that you'll need to get.
A comfortable sofa
This is the most important part of a living room. It won't be a living room if you can't lounge in it. Do your research on the types of sofas that fit your budget and their sizes. You should also consider how many people are going to use it. If you have a big family, then a large-sized sofa might be more useful for when you want to watch a movie together, for example. If you live alone or just with a housemate, a small and convenient sofa should be fine. You can also get a sofabed, so when you have guests to sleep over, you can easily refer them to the sofa. Embellish your sofa with various comfortable pillows and blankets for you to snuggle in.
Television
Your living room also has the function to be an entertainment room. This is why you need a television for your living room. After all, it is the only escape from the real word. You can binge watch after a hard day of work and during the weekends, watch cartoons with your family, watch election results together with members of the house. Another thing you should get with your television is a cable channel provider such as dish tv that also has internet with its tv packages.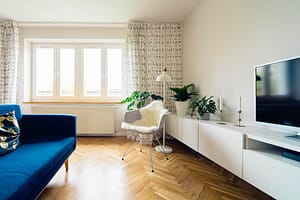 Storage racks
There's nothing wrong with extra storage in your living room. Find a good book rack that can store your books, CDs, albums, etc. You can also find open book racks that can be used to display photographs and small art displays. Make sure it is conveniently placed in the living room and doesn't take too much space. Avoid cluttering in storage spaces since it will develop dirt and dust and make your living room uncomfortable.
Sunlight
Your living room should be shiny and alive during the day. The sunlight will help with the feeling of being relaxed when you're in your living room. It will also help get rid of excess moisture and dust. You can bask in the sunlight in the morning and get some much needed vitamin D, and enjoy the warmth during autumn afternoons as well.